Walking Across Egypt, by Clyde Edgerton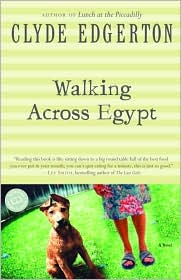 Title: Walking Across Egypt
Author: Clyde Edgerton
Pages: 215
Publisher: Ballantine Books
Copyright: 1987
Format: Paperback
Rating: [rating:2]
____________________________
This was a last-minute replacement for another book club selection that became unavailable. It was good pick for December because it's a quick and easy read.
From the back of my Ballantine Reader's Circle edition:
She has as much business keeping a stray dog as she would walking across Egypt – which not so incidentally is the title of her favorite hymn. She's Mattie Rigsbee, an independent, strong-minded senior citizen who, at seventy-eight, might be slowing down just a bit. When teenage delinquent Wesley Benfield drops in on her lief, he is even less likely a companion than the stray dog. But, of course, the dog enver tasted her mount-watering pound cake. Wise and witty, down-home and real, Walking Across Egypt is a book for everyone.
I doubt that last statement that "Walking Across Egypt is a book for everyone." In fact, it wasn't a book for me. While I generally liked Mattie, I found her to be a little gullible, a little judgmental, and a little unrealistic in her expectations. I did like the reflections on life and the yearning for posterity. But the plot was a little too convenient, and I got tired of all of the food. And the ending was downright odd. Now, I fully admit that I probably missed something in this book. Others have found it engaging, charming, and funny. However, I didn't get the humor, the characters were flat, and the story just seemed too simplistic. I don't know that my book club will have a lot to discuss here, but maybe they'll be able to change my mind.
Walking Across Egypt, by Clyde Edgerton [rating:2]
Other Reviews:
Booknotes by Lisa