A Field Guide To Burying Your Parents, by Liza Palmer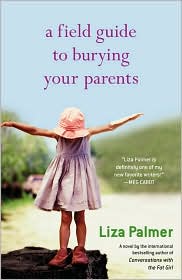 Title: A Field Guide To Burying Your Parents
Author: Liza Palmer
Pages: 304
Publisher: Hachette
Copyright: 2010
Format: Paperback
Rating: [rating:3]
____________________________
I received this book for free from the publisher. All content and opinions are my own.
When Grace Hawkes's mother died five years ago, she bolted from her life and shut down emotionally. She cut off contact with her three siblings and left her boyfriend. Now, her father, who abandoned the family twenty years ago, is dying. As Grace rejoins her family at her father's deathbed, she must face a myriad of emotions about the death of her parents, the meaning of family, and the ability to love again.
This is a quick, easy, and enjoyable read. The writing flows well and is pretty witty. Grace is an interesting character, as are her siblings. The story is pretty simple but sufficient. However, be warned, you must suspend some disbelief. There are some really forgiving characters. And, as a lawyer, I must heartily object to the final legal scene as very unrealistic. Despite some flaws, A Field Guide To Burying Your Parents will certainly keep you entertained.
Check out Liza Palmer's website for more information about the book and to hear her read the first chapter.
A Field Guide To Burying Your Parents, by Liza Palmer [rating:3]
Other Reviews:
Amber Stults
Booking Mama
A Bookworm's World