Last Days of Summer, by Steve Kluger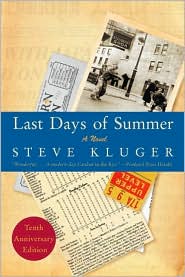 Title: Last Days of Summer
Author: Steve Kluger
Pages: 353
Publisher: Harper
Copyright: 1998
Format: Paperback
Rating: [rating:4]
____________________________
Welcome back to Steve Kluger week here at The Bluestocking Society and happy St. Patrick's Day. I first heard about Kluger out here in the lovely blogosphere. After reading My Most Excellent Year, which won the 2009 Nerds Heart YA Tournament, I put Almost Like Being in Love and this one, Last Days of Summer, on my Christmas wishlist. Here's the blurb on the back:
Last Days of Summer is the story of Joey Margolis, neighborhood punching bag, growing up goofy and mostly fatherless in Brooklyn in the early 1940s. A boy looking for a hero, Joey decides to latch on to Charlie Banks, the all-star third baseman for the New York Giants. But Joey's chosen champion doesn't exactly welcome the extreme attention of a persistent young fan with an overactive imagination. Then again, this strange, needy kid might be exactly when Banks needs.
I really really liked this book. It's charming and funny and kind. Joey is an obnoxious and yet winsome hero, and Charlie Banks is an excellent foil. I particularly liked the letters between Joey and Charlie – so much wit. Similar to and yet very different from the rest of Steve Kluger's work, this book has won a permanent place on my bookshelves.
Check out the rest of the Steve Kluger week celebrations:
Monday – Review of My Most Excellent Year
Tuesday – Review of Almost Like Being in Love
Wednesday – Review of Last Days of Summer
Thursday – Interview with Steve Kluger
Friday – Steve Kluger Giveaway
Last Days of Summer, by Steve Kluger [rating:4]
Other Reviews:
An Adventure in Reading
The Book Lady's Blog
One Swede Read
Thoughts of Joy