My Most Excellent Year, by Steve Kluger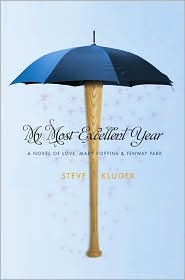 Title: My Most Excellent Year
Author: Steve Kluger
Pages: 403
Publisher: Dial Books (Penguin)
Copyright: 2008
Format: Hardback
Rating: [rating:5]
____________________________
Welcome to Steve Kluger week here at The Bluestocking Society! This week I'll be posting reviews of Kluger's three most recent books, a giveaway of one of Kluger's books, and an interview with the man himself.
I can't remember where, exactly, I first heard about this book, but it was on a blog. And the enthusiasm for the book stuck with me. So much so that I ordered the book from Amazon on a whim. It then languished on my shelf for over a year. And then it won the Nerds Heart YA tournament. And I still didn't get to it right away. It was just a couple of months ago that I finally read it. And the blogosphere was right. This is an amazing book.
My Most Excellent Year is actually the most excellent senior year of the three main characters – T.C. Keller, Augie Hwong, and Alejandra Perez. And that's all you should really know before your jump in, except that their story is told using a variety of mediums, including emails, school essays, texting, etc.
I wholeheartedly loved this book. I laughed out loud through the whole thing – so much so that my husband kept asking me WHAT exactly I was reading. And I had to answer that I was reading one of my new favorite books. Everything worked for me. The writing is incredibly fresh. The characters are real. The situations, while unlikely, are believable and interesting. And Kluger's use of various media (texts, emails, instant messaging, and prose) to communicate the story was very effective. I'd recommend this for teens and adults alike.
Come back for the rest of Steve Kluger week:
Monday – Review of My Most Excellent Year
Tuesday – Review of Almost Like Being in Love
Wednesday – Review of Last Days of Summer
Thursday – Interview with Steve Kluger
Friday – Steve Kluger Giveaway
My Most Excellent Year, by Steve Kluger [rating:5]
Other Reviews:
Nerds Heart YA Tournament Final Round (Part I & Part II)
Book Dweeb
Bookshelves of Doom
Linus's Blanket
Reviewer X
Sassymonkey Reads
Stuff as Dreams are Made On
Valentina's Room
YAnnabe
The YA YA YAs