Rape: A Love Story, by Joyce Carol Oates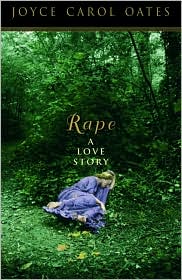 Title: Rape: A Love Story
Author: Joyce Carol Oates
Pages: 154
Publisher: Carroll & Graf
Copyright: 2004
Format: Paperback
Rating: [rating:3]
____________________________
I picked this one up, largely because of Trish's review. Also, I'd heard that it was going to be made into a movie. Finally, how could I resist such a provocative title? Here's what the back cover reveals:
Teena Maguire should not have tried to shortcut her way home that Fourth of July. Not after midnight, not through Rocky Point Park. Not the way she was dressed: tank top, denim cutoffs, high-heeled sandals. Not with her twelve-year-old daughter Berthie. Not with packs of local guys running loose on hormones, rage, and alcohol. A victim of gang rape, left for dead in the park boathouse, the once vivacious Teena can now only regret that she has survived.

At a relentlessly compelling pace punctuated by lonely cries in the night and the whisper of terror in the afternoon, Joyce Carol Oates unfolds the story of Teena and Berthie, their assailants, and their unexpected, silent champion, a man who knows the meaning of not only justice but also love.
Unfortunately, I didn't love this one. It is fairly graphic, though not overly so. There's just enough there to let you know how horrific the gang rape was. After that, the story alternates between Bethie and John Dromoor, a cop with a vigilante streak. It's an interesting but heartbreaking story. And I just couldn't find the love promised by the incongruous title.
Still, this is a short, well-written novella that challenges the delineation between right and wrong. And, it will no doubt challenge you, should you choose to accept it.
Rape: A Love Story, by Joyce Carol Oates [rating:3]
Other Reviews:
Bibliolatry
Book Addiction
Book Chase
The Book Zombie
Eve's Alexandria
Hey Lady! Whatcha Readin'?
J. Kaye's Book Blog