Revolutionary Road, by Richard Yates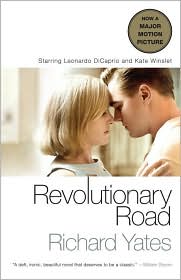 Title: Revolutionary Road
Author: Richard Yates
Pages: 355
Publisher: Vintage Contemporaries
Copyright: 1961
Format: Paperback
Rating: [rating:4]
____________________________
I received this book for free from the publisher. All content and opinions are my own.
Frank and April Wheeler are your typical 1950s suburbanites, and perhaps even typical in that they think they are vastly superior to everyone else. They believe that they are destined for and deserve greatness, without making an effort. Frank dismisses his job as a topic of conversation and takes pleasure in putting in minimal effort each day. April is prone to adult tantrums. They reluctantly had two children who they ignore. In order to overcome the encroaching suburban ennui, the Wheelers decide that moving to Paris will allow them to achieve the greatness they deserve. April will be a career woman, and Frank will have time to . . . think. But then life gets in the way, forcing the Wheelers to face their ordinariness.
I realize that the above description sounds exceptionally bleak. And it is. But Yates manages to allow the reader to simply observe the bleakness. Yates invites the reader to see the Wheelers but to see them from afar. All the better, I think, to judge them. And the technique works. With a third person omniscient narrator, we are given glimpses of Frank's mind, April's mind, and the minds of some of their suburban neighbors. Yates leaves it up to the reader to judge the entire cast of characters. And in the process of judging, we are forced to judge ourselves.
To top it off, the writing in Revolutionary Road is some of the best that I've read in a good long while. Little gems of realism abound. Here are two passages that stayed with me:
But he had begun to feel depressed in a way that couldn't be attributed to ordinary Sunday-evening sadness. This odd, exhilarating day was over, and now in the fading light he could see that it had only been a momentary respite from the tension that had harried him all week. He could feel the resumption of it now, despite the reassurance of her clinging at his back – a dread, a constricting heaviness of spirit, a foreboding of some imminent, unavoidable loss.

They could lie drowsing now under the sound of kindly voices in the living room, a sound whose intricately rhythmic rise and fall would slowly turn into the shape of their dreams. And if they came awake later to turn over and reach with their toes for new cool places in the sheets, they knew the sound would still be there – one voice deep and the other soft and pretty, talking and talking, as substantial and soothing as a blue range of mountains seen from far away.
I've often felt that "ordinary Sunday-evening sadness." Isn't that a lovely way to put it? And I love the image of turning over and reaching with your toes "for new cool places in the sheets." Gems I tell you. Yates is a master. April and Frank are two of the most selfish characters I can think of – and they're fascinating. And the bigger questions are just as fascinating. What constitutes greatness? What is happiness? Can you be happy with an ordinary life in the suburbs?
I highly recommend this book. It's a thinker.
Revolutionary Road, by Richard Yates [rating:4]
Other Reviews:
1morechapter.com
Asylum
Books I Done Read
The Book Lady's Blog
A Guy's Moleskine Notebook
Incurable Logophilia
Jenny's Books
Medieval Bookworm
A Novel Menagerie
Reading Comes from Writing
She Is Too Fond of Books
Shelf Love
Stuck in a Book