The Jewel Trader of Pegu, by Jeffrey Hantover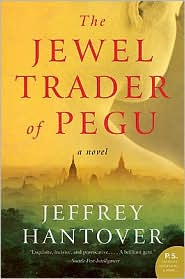 Title: The Jewel Trader of Pegu
Author: Jeffrey Hantover
Pages: 227
Publisher: Harper Perennial
Copyright: 2009
Format: Paperback
Rating: [rating:4]
____________________________
I received this book for free from the publisher. All content and opinions are my own.
I've had this work of historical fiction on my TBR stack for over a year. I shouldn't have waited so long to get to it.
The synopsis:
Abraham, a twenty-eight-year old widower, travels from the Venetian Ghetto to the Burmese kingdom of Pegu, to buy jewels for his uncle in the last years of the 16th century. A quiet, withdrawn man, Abraham, far from kin and community, finds the ways of the Peguans and their Buddhist beliefs strange and baffling. He must confront his own taken-for-granted world as he struggles with a series of moral choices which test his very sense of self. Taking residence in a house previously occupied by another Italian trader, he soon learns the Italian indulged in a native sexual ritual involving young brides – a duty Abraham, too, is expected to fulfill if he wants his family's business to succeed. Abraham is repulsed and refuses, but the success of his venture forces him to reluctantly reconsider. An accidental death leaves Mya, a young bride from the village, at his doorstep. An act of generosity leads to a love, and both are reborn through their love as the empire crumbles around them. Surrounded by danger, torn between the demands of his God and the yearnings of his heart, he must make a fateful choice that will change his life forever and affect all he holds dear.
This is a solid work of historical fiction. Hantover is clearly a talented writer. The story is very poetic and romantic – without being cheesy or erotic. Historical fiction can often come across as a research project with a few characters thrown in. Here, though, the historical elements are fascinating and mixed into the story with grace. I especially enjoyed learning about a culture that I knew nothing about. For example, I learned that the women of Pegu, afraid of looking like dogs, filed down their incisors and blackened their teeth. That is a great detail that added appropriate depth to the story.
I love the epistolary form – letters written by Abraham, mixed in with the thoughts of Mya. I was drawn into this story of love and adventure, almost without my knowing it. Abraham is a lovable, flawed character. His pontifications on religion and morals were insightful without being preachy. In fact, this book caused me to reflect on the bases of my own values and religious beliefs. Rarely does a work of fiction affect me in such a manner. I would highly recommend The Jewel Trader of Pegu.
Check out Jeffrey Hantover's website for an excerpt and a reader's guide.
The Jewel Trader of Pegu, by Jeffrey Hantover [rating:4]
Other Reviews:
Booking Mama
Diary of an Eccentric
Fresh Ink Books
HistoricalNovels.info
Linus's Blanket