The Kitchen House, by Kathleen Grissom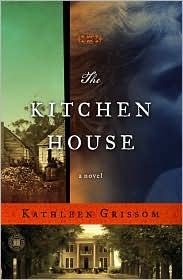 Title: The Kitchen House
Author: Kathleen Grissom
Pages: 365
Publisher: Simon and Schuster
Copyright: 2010
Format: Paperback
Rating: [rating:4]
____________________________
I received this book for free from the publisher. All content and opinions are my own.
When Kathleen Grissom contacted me about reading her recently published first novel, The Kitchen House, I was hesitant because I was expecting a baby any day. However, I read though an excerpt online and noted that The Kitchen House had been selected as a National Blue Ribbon Choice of the Book of the Month Club and was hooked. This turned out to be exactly the book I needed to get me back into the reading groove.
Orphaned on the ship from Ireland to America, seven-year-old Lavinia becomes an indentured servant to Captain James Pyke and is sent to work in the kitchen house with some of the tobacco plantation's slaves. Despite her white skin, Lavinia is adopted into the slaves' makeshift family that includes Belle, the Captain's illegitimate daughter, and Mama Mae, the matron of the family and highest ranking female servant. Lavinia learns to be a good worker and observes with some confusion the disorder and dysfunction of the Captain's family. As Lavinia grows into a young woman, the color of her skin and her loyalty to her adopted slave family forces her to make difficult decisions that cause turmoil and tragedy.
I really enjoyed this book. The subject matter wasn't always pleasant, but I was drawn into the setting and the characters. I only had time to read this book at night, but I found myself thinking about it during the day and being excited to get back to it at night. The writing flowed so seamlessly that I can't believe that this is Grissom's first novel. And, a huge accomplishment in historical fiction, the historical details were perfect in their placement. Grissom used historical details only to add realism to the plot and not just to add in interesting tidbits she learned during her research. Also, Grissom gives this slave story enough of a twist to make it unlike any other book I've read on the subject.
Perhaps the strongest element of this book besides the writing was the characters. Lavinia and Belle were great narrators. The bulk of the story is told from Lavinia's point of view, but she is unreliable to the extent that she is very naive and childlike. Belle's brief contributions simply added an adult (and slave) perspective without reservations. The rest of the characters were interesting, well drawn, and realistic. I particularly enjoyed Mama Mae, Papa George, and the rest of the slave family.
My only major complaint about this book is that there are about 300 pages of set up for about 50 pages of climax and resolution. I was so involved in the characters that it was very disappointing to have the action begin and add so abruptly. Despite the pacing issues, this is a tremendous book that I highly recommend.
The Kitchen House, by Kathleen Grissom [rating:4]
Other Reviews:
Confessions of a Bibliophile
The Literate Housewife Review
A Reader's Respite