The Wonderful Wizard of Oz, by L. Frank Baum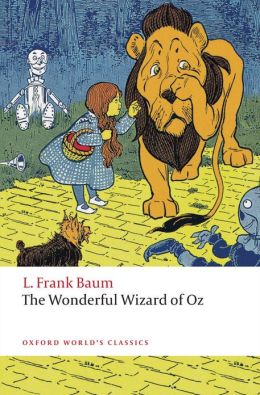 Title: The Wonderful Wizard of Oz
Author: L. Frank Baum
Pages: 160
Publisher: Project Gutenberg
Copyright: 1993 (1900)
Format: Ebook
Rating: [rating:3]
____________________________
This was the first book I read on my iPhone using the Stanza app. I downloaded it for free from Project Gutenberg. I got the idea from Meghan at Medieval Bookworm.
Do I even have to summarize this one? Dorothy is blown away from Kansas during a cyclone and lands in the wonderful Land of Oz. She has many adventures on her quest to return home to Kansas. Along the way, she meets the scarecrow, the tin woodsman, the cowardly lion, and, of course, the wizard.
I could spend this whole review pointing out the differences between the book and the movie – there are quite a few of them. But I wont. I'll just say, that this short little fairy tale is worth reading, for the story and the satire. My favorite tidbit is that all persons entering Oz must be fitted with permanent green glasses – in order to prevent blindness of course, not to make the otherwise normally-colored town appear green.
It's not intricate. There's not as much conflict as the movie. But it's a nice little modernized fairy tale.
The Wonderful Wizard of Oz, by L. Frank Baum [rating:3]
Other Reviews:
Books 'N Border Collies
Mad Bibliophile
Medieval Bookworm
Melody's Reading Corner