Newspaper Blackout, by Austin Kleon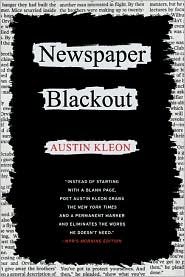 Title: Newspaper Blackout
Author: Austin Kleon
Pages: 173
Publisher: Harper Perennial
Copyright: 2010
Format: Paperback
Rating: [rating:4]
____________________________
I received this book for free from the publisher. All content and opinions are my own.
I think this is the best idea! Here's how NPR summarizes the idea behind Newspaper Blackout: "Instead of starting with a blank page, Poet Austin Kleon grabs The New York Times and a permanent marker and eliminates the words he doesn't need."
Newspaper Blackout is a handy little book. It opens with brief history of altered works – the art of making art out of existing art. Google "altered books" and you'll get a glimpse of just how versatile and cool this genre is.
The next, largest, chuck of the book contains Kleon's poems, which, for the most part, left me a little cold. There were a few, though, that I thought were great. My favorite is called "Martin Strapped In." I wish I could find a picture of it for you, but here is my best recital of it:
Martin strapped in
he was not
scared
this thing flies
he said
to prove
it
he
jumped off
my garage
in
his
jetpack
fueled by dreams
Check out the newspaper blackout poems section of Austin Kleon's website for visual examples of work.
The final part of the book consists of a section called "How to Make a Newspaper Blackout Poem." What I loved about this section was that Kleon obviously wants people to try this out. He doesn't have that proprietary vibe that some artists have. He enjoys making these poems and thinks you will too. He even includes five newspaper blackout poems that won a contest on his website. I might have to try my hand at it this weekend.
Great idea. Okay poems. Well thoughtout book.
Newspaper Blackout, by Austin Kleon [rating:4]
Other Reviews:
1330V
Largehearted Boy
She is Too Fond of Books