The Queen of Palmyra, by Minrose Gwin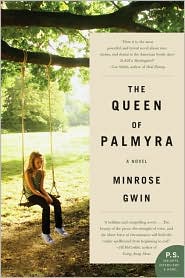 Title: The Queen of Palmyra
Author: Minrose Gwin
Pages: 390
Publisher: Harper Perennial
Copyright: 2010
Format: Paperback
Rating: [rating:3]
____________________________
I received this book for free from the publisher. All content and opinions are my own.
Welcome to today's stop on Minrose Gwin's TLC blog tour for The Queen of Palmyra.
It's the 1960s.  Florence is twelve.  Her mother provides for the family by baking amazing cakes but drinks too much.  Her father is an abusive racist who has a secret pastime that takes him out at all hours.  Her grandparents live nearby, but she is often foisted upon Zenie, their black maid, and her family.  As the events of a volatile summer play out before her, Florence is shown the great divide between the black servants who have become her stand in family and her actual white family.
Parts of this story were brilliant.  There were chords struck that reminded me of To Kill a Mockingbird. Florence, like Scout, is a spunky (albeit naive) kid who is struggling to understand her changing world.  And Gwin sets up Florence's world with irresistible characters that pull the reader through the story.  
One of the recurring themes in the book is the nature of history, of telling stories of the past. Here are a few of my favorite quotes:
But some stories are whiskery old men. You walk past them fast, but they snatch at you with their fingers of bone and make you stay. They hold you up to their faces and scratch you. But after going through all that, you still don't know them.

There are ways to leave your own story. You can leave the place it happened, through be forewarned, if the place is too sad about you leaving, it won't think twice about packing up its valise and hopping the first 'Frisco through town to follow you.

Some stories run for their lives. They zig and zag, moving so fast you can't find the secret path of their steps through the fields, only soft prints here and there to let you know something with a quivering heart and a soft belly passed that way or this. In what direction it ran or to what end, you will never know. Sometimes you see the blood or fur, and you know it didn't get away.
Despite some nice touches, the book didn't completely mesh for me. The prose, particularly at the beginning of the book, was sometimes labored. And Florence as a narrator was a little uneven. At times, she was a naive twelve year old girl, and at other times she was a mature adult looking back at her twelve-year-old self. Finally, there were a lot of uncomfortable scenes in which Florence is sexually, emotionally, and physically abused. Such scenes are not, in and of themselves bad, but I didn't feel that all of the scenes were justified by the story.
Still, I was absorbed by The Queen of Palmyra.  As a child of the 80s who missed the racial turmoil of the 70s, I'm always amazed by the proximity of these stories.  The Queen of Palmyra is a notable debut that explores race issues from an interesting perspective.
The Queen of Palmyra, by Minrose Gwin [rating:3]
Be sure to check out Minrose Gwin's website and the other stops on the TLC tour.
Other Reviews:
The Girl from the Ghetto
Killin' Time Reading