A Step from Heaven, by An Na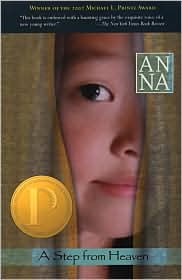 Title: A Step from Heaven
Author: An Na
Pages: 160
Originally Published: 2001
Format I Read: Paperback
Publisher: Speak
Rating: [rating:3]
____________________________
Check another one off of my Printz Project list! A Step from Heaven won the Printz Award in 2002.
Young Ju and her family come to America from Korea when she is four. The family is sure that their problems will fade away in what they assume will be heaven on earth. However, they struggle to achieve the American dream.
I got frustrated with this one. It's pretty bleak. And I'm tired of crappy fathers in fiction. I read this one right after reading The Queen of Palmyra, which had a horrible father too. I also hate it when authors use words from other languages, in this case Korean, and just expect you to figure it out. In most cases here I could glean the meaning from the context, but not always. Be aware, too, that the book is written from Young Ju's point of view, so the first few chapters, where she's very young, are a little hard to follow.
It's not all bad. This short little tome is well written and has, what seems to me at least, a realistic portrayal of the struggles that accompany immigration. I also liked some of the pontifications on faith and heaven. And Young Ju was a believable young narrator looking back at her life. I understand why it won the Printz Award, but it wasn't for me.
A Step from Heaven [rating:3]
Other Reviews:
DogEar Diary
YA Lit – The Good, the Bad, the Ugly
The Zen Leaf
Have you read this book? Head on over to the Printz Project blog and let us know!