The First Part Last, by Angela Johnson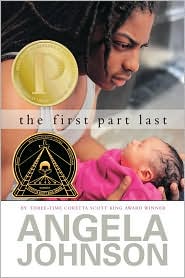 Title: The First Part Last
Author: Angela Johnson
Pages: 132
Originally Published: 2003
Format I Read: Paperback
Publisher: Simon Pulse
Rating: [rating:3]
____________________________
I'm checking these Printz Award winners off of my list! My goal is to read them all – and thereby complete the Printz Project – by the end of the year. This one is my seventh. Only four to go.
This novella, really, is about Bobby. Teenage father to infant Feather. The story alternates between "then" (before the birth of the baby) and "now" (after the birth of the baby).
There isn't really much here. It's a pretty typical plot about teenage pregnancy – from a middle class black guy's perspective. But it just didn't seem real to me. I just couldn't feel Bobby's feelings. It almost felt like Johnson was writing about how Bobby should feel, instead of how he felt. I don't know. Some of these scenes should have been touching. I especially thought that since I recently became a parent myself that some of this stuff would resonate with me. It just didn't. It fell completely flat for me.
Still, at 130 pages, this book took me about an hour to read and was worth it to me to read another Printz Award winner. And lots of other people loved it (see many of the other reviews listed below), including the Printz committee.
The First Part Last, by Angela Johnson [rating:3]
Other Reviews:
1MoreChapter.com
Bloggin' 'Bout Books
Book Snob
Educating Petunia
Good Books and Wine
Jenny's Books
One Librarian's Book Reviews
Things Mean a Lot
Thoughts of Joy
The Zen Leaf