When You Reach Me, by Rebecca Stead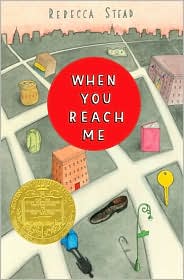 Title: When You Reach Me
Author: Rebecca Stead
Pages: 208
Publisher: Wendy Lamb Books
Copyright: 2009
Format: Hardback
Rating: [rating:4]
____________________________
When You Reach Me won the 2010 Newbery Medal. So, I of course had to reach for it. Pun intended.
Miranda's life sort of takes a turn for . . . the odd in sixth grade. She and her best friend Sal have inexplicably parted ways. Her mom has been accepted as a contestant on The $20,000 Pyramid. A homeless man has taken up residence by her mailbox. And, she starts receiving notes that accurately predict the future.
When You Reach Me is well constructed, well written, and well peopled. Miranda is a plucky-with-a-side-of-realism kind of narrator that you want to spend time with. The plot is a relatively predictable and time-tested one of a kid on the brink of teenagerhood and all that entails, but there's a nice twist to it with the futuristic mystery. There's also some lovely homage to A Wrinkle in Time.
This is one of those books that I ache for the opportunity to have read as a twelve-year-old. It got four stars from the adult me only because it didn't fully live up to the massive – mostly deserved – hype. So read it, but also have all your middle grade acquaintances read it. It'll be magical for them.
When You Reach Me, by Rebecca Stead [rating:4]
Other Reviews:
Becky's Book Reviews
The Book Muncher
The Book Nest
Book Nut
Booking Mama
A Chair, A Fireplace & A Tea Cozy
Flight into Fantasy
It's All About Books
Jen Robinson's Book Page
Karin's Book Nook
Kids Lit
Killin' Time Reading
Lesa's Book Critiques
Maw Books Blog
One Librarian's Books Reviews
The Page Flipper
The Reading Zone
Ready When You Are, C.B.
S. Krishna's Books
Save Ophelia
Shelf Love
SherMeree's Musings
So Many Books, So Little Time
Steph Su Reads
The Well-Read Child
YA Books Central Blog