Eat, Pray, Love, by Elizabeth Gilbert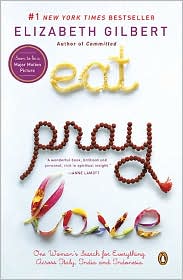 Title: Eat, Pray, Love
Author: Elizabeth Gilbert
Pages: 334
Originally Published: 2006
Format I Read: Paperback
Publisher: Penguin Books
Rating: [rating:5]
____________________________
On a whim at Borders the other day (which was partially influenced by the ubiquitous promotion for the movie), I bought this book to read during my lunch hour. After the lunch hour, I was hooked.
Elizabeth Gilbert's prose is captivating. She writes in a way that both makes you want to get to know her better and lets you feel that you are, in fact, getting to know her better. This book is honest. It's about her and her post-divorce spiritual journey. That is, by definition, self-centered. But I really really enjoyed going on the ride with her.
The book is separated into three main parts – Eat, Pray, and Love – which each, in turn, consist of 36 parts. "Eat" takes place in Italy. This section was my favorite. Largely, I think, because I've actually been to Rome and Naples and Venice. Also, I love that she kind of wanders about, eating and speaking Italian. It sounds delightful to me, because I have a very different kind of life now that is scheduled down to the second with a baby, a husband, a dog, a job, a house, a blog, etc. It was nice to live with Gilbert in Italy for a while.
The second section, "Pray" takes place in India. Gilbert goes to live in an ashram there to study under a guru. She spends months there practicing meditation and working in the ashram. This part wasn't as fun as "Eat," but I enjoyed it too. The practice of meditation is completely foreign to me, but this made me want to try it out.
The final section of the book, "Love" takes place in Indonesia. A couple of years prior to the time in the book, Gilbert was invited by a Bali medicine man to come and stay with him. So she went. I love that about her. She loves to travel and just goes. And she's a pretty good writer to boot. Here are some lovely quotes from the beginning of the book:
In the end, what I have come to believe about God is simple. It's like this — I use to have this really great dog. She came from the pound. She was a mixture of about ten different breeds, but seemed to have inherited the finest features of them all. She was brown. When people asked me "What kind of dog is that?" I would always give the same answer: "She's a brown dog." Similarly, when the question is raised, "What kind of God do you believe in? my answer is easy: "I believe in a magnificent God." (14)

I feel about travel the way a happy new mother feels about her impossible, colicky, restless newborn baby — I just don't care what it puts me through. Because I adore it. Because it's mine. Because it looks exactly like me. It can barf all over me if it wants to — I just don't care. (41)
This turned out to be a book that particularly spoke to me at this time in my life. It made me want to spend a little more time in self-meditation. But mostly, it was just a fun read.
Eat, Pray, Love, by Elizabeth Gilbert [rating:5]
Other Reviews:
1morechapter.com
Book Journey
Book Nut
Books I Done Read
Fizzy Thoughts
The Girl from the Ghetto
It's All About Books
Literary Escapism
The Literate Housewife Review
Lotus Reads
Maw Books Blog
My Fluttering Heart