Finny, by Justin Kramon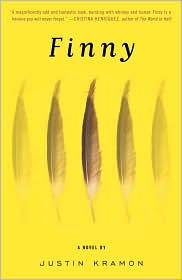 Title: Finny
Author: Justin Kramon
Pages: 366
Originally Published: 2010
Format I Read: Paperback
Publisher: Random House
Rating: [rating:3]
____________________________
I received this book for free from the publisher. All content and opinions are my own.
Welcome to today's stop on Justin Kramon's TLC blog tour for his debut novel, Finny.
We first meet Finny as a pert 14-year-old who feels misunderstood by her peacemaker mother, pompous father, and people-pleaser brother, Sylvan. Running away from home one day, Finny meets Earl, whose easygoing personality and unconventional household speak to Finny. When her parents find out about her relationship with Earl, they pack her off to boarding school. We follow along as Finny grows into adulthood, as she tries to find herself, and as she interacts with Earl.
I have to be frank here and say that Finny ended up not being the right book fit for me. But it has a lot going for it. It's a little quirky. Finny is a pretty interesting heroine. Boarding school is always a nice setting for a coming of age story. The minor characters are well-drawn and add to the story. And I really liked the sibling relationship between Finny and Sylvan.
But there's a bit of a "but" here. I always felt removed from Finny. I don't know if it's the third person narration that put a space between us or what. But I never could quite feel like I understood her. Also, because this is a saga that spans twenty years, every portion of the story felt rushed to me. This is especially true of the beginning. I didn't feel like I got to know 14-year-old Finny well enough to understand how lost (or not lost) she became in her late teens and early twenties. And I was just beginning to be interested in the boarding school portion of things when it ended. I felt similar distance from Earl. We never get to know him, except as Finny sees him, and I still can't decide whether she was reliable in her descriptions of him. Finally, there is some random bawdiness here that seemed to detract from the story instead of add to it. And it is this bawdiness in particular that would make me reluctant to recommend this as a book club selection.
Still, I think Justin Kramon is a good writer. There is a lot of whimsy here balanced with realistic life situations. I was compelled enough by the story that I finished Finny in just a couple of days – a real feat for me these days. And the minor characters kind of stole the show in many scenes. I'll definitely be watching for more work from Kramon.
Check out Justin Kramon's website and the rest of the TLC tour stops for Finny.
Finny, by Justin Kramon [rating:3]
Other Reviews:
5MinutesforBooks.com
Bermudaonion's Weblog
Book Addiction
The Book Lady's Blog
Booking Mama
GalleyCat
My Books. My Life.