Mockingjay, by Suzanne Collins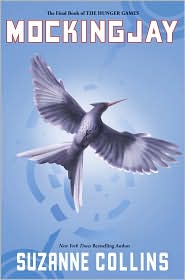 Title: Mockingjay
Author: Suzanne Collins
Pages: 400
Originally Published: 2010
Format I Read: Hardback
Publisher: Scholastic
Rating: [rating:4]
____________________________
Does this book even need introduction by now? Probably not. But here's my little introduction to it. I read both The Hunger Games and Catching Fire in a 24-hour period last October. So, it was a given that I'd be devouring Mockingjay shortly after its release.
Here's the best, spoiler-free plot summary I've read, courtesy of Raych from Books I Done Read:
Brief sum: more or less of the Districts are at war with the Capitol. Many people are for the war, and a few people are vocally against it, and some things explode. Tough choices are made all around.
I'm a bit flummoxed by this one, to tell you the truth. As I was reading it (in one portion of one day), I was quite satisfied. When I closed the cover, I thought, "What a fitting end to this series. This is probably my favorite of the three books." Then I went to bed. When I woke up in the morning, I wasn't quite as convinced. Below, my pro/con list for Mockingjay:
***SPOILERS ABOUND***
PRO
Katniss in the second half. Love that she's back in form.
The ending and prologue. I loved the sad but healing vibe.
Finnick and Katniss becoming friends. Sigh.
Finnick and Annie.
The length. No third-book-in-a-trilogy syndrome here.
CON
Katniss in the first half. So mope-y. Where's the mockingjay we loved?
Peeta being hijacked. What the what?
Gale being an ass. I knew it!
Prim getting killed. Whhaaa?
Absentee mother. Again.
Constant reminders that the war is just like another round of the Hunger Games.
Finnick's unceremonious demise. Didn't he deserve more than a sentence?
I guess, reviewing the list, there were some disappointments. But it still gets four stars for the pros and that initial high. What were your pros and cons?
Mockingjay, Suzanne Collins [rating:4]
Other Reviews:
Sorry, I don't have the energy for this today. Almost every book blogger on the planet has posted a review by now.