The Queen's Thief Series, by Megan Whalen Turner
We read this series as a "summer assignment" for my book club. And I'm really glad we did. It's a delightful series, though some books worked better for me than others. Warning, some minor spoilers in the latter book summaries appear due to the nature of reviewing a series.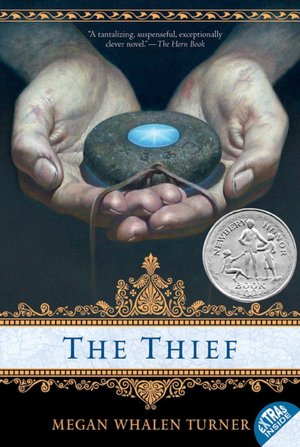 Title: The Thief
Author: Megan Whalen Turner
Pages: 304
Originally Published: 2005
Format I Read: Paperback
Publisher: HarperCollins
Rating: [rating:4]
In this adventure story, we first met Gen (short for Eugenides), a pompous thief who has been arrested for bragging that he could and subsequently did steal the king of Sounis's seal. After rotting in prison for a good while, Gen is recruited by the king's magus to go on an expedition. Rather than stay in prison, Gen, the magus, and his apprentices head off on a quest to find an ancient token.
Most of the book is spent on the road. And the reader slowly gets to know the characters – and love them. It's a simple adventure story. With a good ending. And great characters. Gen is delightful as the thief. The magus is Gandalf-esque. And Sophos and Ambiades – the apprentices – round out the team, along with Pol, Sophos's bodyguard. In all, I didn't really want this story to end. And it doesn't! There are three more books.
My only real criticism involves a bit of resentment over Gen, as a first person narrator, concealing a few things from the reader, but, overall, I believe that The Thief deserved its Newbery Honor.
__________________________________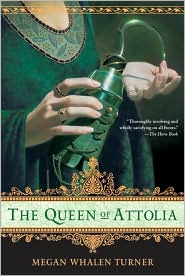 Title: The Queen of Attolia
Author: Megan Whalen Turner
Originally Published: 2006
Format I Read: Kindle eBook
Publisher: HarperCollins
Rating: [rating:3]
This second installment of The Queen's Thief series shows us more about the three kingdoms of Sounis, Eddis, and Attolia. And their sovereigns. This go around, the narration is in third person. In The Queen of Attolia, we meet none other than the queen of Attolia. She is a fierce person, who has held on to her kindgom through her own iron will and willingness to punish with brutality. In this book, she is fighting for the her kingdom in both actual war battles and strategic court politics. And, of course, our friend Gen tends to make things a little more difficult for her.
This sequel didn't quite reach the level of charm in The Thief for me. There is some considerable violence, a lot of planning battle strategies, a more foreseeable twist, and a bit of an odd ending – in my opinion. And the third person narration made all of the characters seem very inaccessible to me. This installment kind of dragged for me, but I still enjoyed it.
__________________________________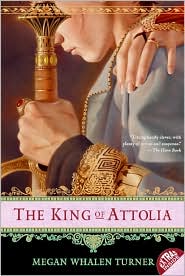 Title: The King of Attolia
Author: Megan Whalen Turner
Originally Published: 2007
Format I Read: Kindle eBook
Publisher: HarperCollins
Rating: [rating:4]
In this book, we get a different perspective of Eugenides, through the eyes of a solider named Costis. I really appreciated this decision to show us the court of Eugenides from this new character, who is seeing Gen for the first time – like the rest of Attolia. Gen, from all accounts, is not doing very well as the king of Attolia. He must struggle to become a king, and Attolia must struggle to accept this foreign-born ruler.
I really enjoyed this third book. Gen is back in fine form, leading people to underestimate him and getting the best of every situation in the end. He is still a skilled thief, and uses his skills to his definite advantage. And Turner does the exact same thing. She knows that we know Gen. We know his skills. And yet, she gets us to underestimate him too!
The ending seemed a little rushed after all of the build up, but the climatic scene is great – like the rest of this book.
__________________________________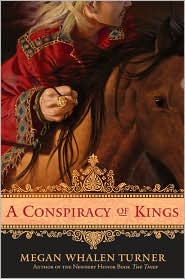 Title: A Conspiracy of Kings
Author: Megan Whalen Turner
Originally Published: 2010
Format I Read: Kindle eBook
Publisher: HarperCollins
Rating: [rating:3]
In this (perhaps) final installment of The Queen's Thief series, we are taken back to Sophos – heir to the Sounis throne. He has been kidnapped and believes most of his family to be dead. He must make some serious decisions about his desire and ability to rule his war-stricken nation.
This one fell flat for me. I'll just list my complaints, really quick like. There were several disconcerting shifts in point of view. I almost felt a step behind the action. Gen was almost completely unlikeable throughout, and I wasn't ever quite sure why. All of the barons were hard to tell apart. Eddis seemed to cop out a bit.
Okay, those are the major complaints, but there were some gems here too. I really enjoyed the earlier section of the book where Sophos was a slave. It was the only part where I felt a connection with him as a character. It also provided good reflections on choosing a course in life and owning it.
__________________________________
On the series as a whole, I thought it was excellent. I occasionally got lost in the descriptions of geography and history and invasions and whatnot. (Maps would've helped!) And I always felt like I was purposely kept a step behind, which was frustrating. But I liked that oddities were explained in context rather than in exposition. And I loved the characters, particularly Gen. He's one of the more memorable characters I've found in a while. I'd recommend this series to any middle grader and to most adults.
Other Reviews:
The Thief
A Chair, A Fireplace, & A Tea Cozy
Angieville
AvidBookReader
Becky's Book Reviews
Book Nut
Bookshelves of Doom
Bookworm Nation
Dear Author
Fyrefly's Book Blog
It's All About Books
Jen Robinson's Book Page
Polishing Mud Balls
Presenting Lenore
The Reading Zone
The Written World
The Queen of Attolia
A Chair, A Fireplace, & A Tea Cozy
Angieville
AvidBookReader
Becky's Book Reviews
Book Nut
Dear Author
Fyrefly's Book Blog
It's All About Books
Polishing Mud Balls
Presenting Lenore
The King of Attolia
A Chair, A Fireplace, & A Tea Cozy
Angieville
AvidBookReader
Book Nut
Bookshelves of Doom
Dear Author
It's All About Books
A Conspiracy of Kings
A Chair, A Fireplace, & A Tea Cozy
Angieville
Book Crumbs
Book Nut
Confessions of a Bibliovore
Dear Author
It's All About Books
Jenny's Books
The Written World