Tinkers, by Paul Harding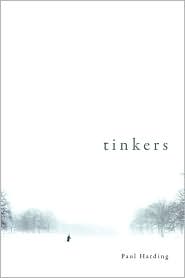 Title: Tinkers
Author: Paul Harding
Pages: 191
Originally Published: 2009
Format I Read: Paperback
Publisher: Bellevue Literary Press
Rating: [rating:4]
____________________________
Okay, the first thing you should know about this book (other than the fact that it won this year's Pultizer Prize for Fiction) is that the writing is amazing. Here, read these, if you don't believe me:
To look at his life, to take the stock he always imagined a man would at his end, was to witness a shifting mass, the tiles of a mosaic spinning, swirling, reportraying, always in recognizable swaths of colors, familiar elements, molecular units, intimate currents, but also independent now of his well, showing him a different self every time he tried to make an assessment. (18)

To Howard, this was the best part of the afternoon, when folds of night mingled with bands of day. (53)

The flowers must have been the latest generation of perennials, whose ancestors were first planted by a woman who lived in the ruins when the reins were a raw, unpainted house inhabited by herself and a smoky, serious husband and perhaps a pair of silent, serious daughters, and the flowers were an act of resistance against the raw, bare lot with its raw house sticking up from the raw earth like an act of sheer, inevitable, necessary madness because human beings have to live somewhere and in something and here is just as outrageous as there because in either place (in any place) it seems like an interruption, an intrusion on something that, no matter how many times she read in her Bible, Let them have dominion, seemed marred, dispelled, vanquished once people arrives with their catastrophic voices and saws and plows and began to sing and hammer and carve and erect. (61)
So, beautiful writing, eh? These quotes, in particular, really made me think. I love these gems. But, unfortunately, I only found these little nuggets to love.
As a whole, the book didn't work – for me. Though it definitely reminded me of Gilead, by Marilynne Robinson – a fellow Pulitzer winner – I just didn't really connect to the characters. And the plot meandered (and meandered some more) without ever really finding a true direction. So, three stars for plot, but five stars for prose – for an average of four stars.
I was a little disappointed by this Pulitzer winner. But there are many who loved it. Check out the reviews below for some other opinions. And, I would send you to Paul Harding's website, but, shockingly, he doesn't have one.
Tinkers, by Paul Harding [rating:4]
Other Reviews:
Amy's Book Obsession
Asylum
Bibliophile by the Sea
Caribousmom
Farm Lane Books Blog
Joy's Blog
NomadReader
Page247
Savidge Reads