Room, by Emma Donoghue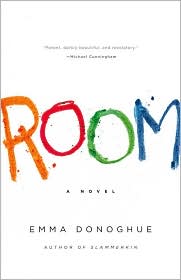 Title: Room
Author: Emma Donoghue
Originally Published: 2010
Format I Read: Kindle eBook
Publisher: Little, Brown and Company
Rating: [rating:4]
____________________________
Room was shortlisted for this year's Man Booker Prize, and it therefore made its way onto my short list (and almost every other blogger's short list – just check out the list of reviews below).
Jack has lived all of his life in Room with his Ma. During the day they play games and think up what they're going to ask Old Nick for for their Sundaytreat. Jack is actually pretty happy living in Room, except for the days when Ma is gone, inside herself. Then, Ma hatches a plan to escape, and Jack is forced to reckon with Outside.
I liked this book. The first half was hard to read and yet hard to stop reading. The things that Ma came up with to normalize the situation were quite ingenious. But, the book slowed down dramatically in the second half and, worse, became less believable for me. The reader is required to suspend quite a lot of disbelief with Jack as the narrator. In order to coherently tell the story, Jack has to be "okay." He has to cope with Room (and without Room) while still staying objective enough to tell us about it. And sometimes that was a little too much for me to handle. But other than that flaw, this was an interesting book that explores a horrible situation in an insightful way.
Room, by Emma Donoghue [rating:4]
Other Reviews:
All About {n}
An Adventure in Reading
Asylum
Babbling about Books, and More
Back to Books
Bibliophile by the Sea
Book Journey
The Book Whisperer
A Bookworm's World
Capricious Reader
Cousins Read
Everyday I Write the Book
Fantasy Book Critic
Farm Lane Books Blog
Jenny's Books
Literary License
NomadReader
The OF Blog
Reading Matters
S. Krishna's Books
Savidge Reads
Stone Soup
Stuff as Dreams are Made On
The Written World