Matched, by Ally Condie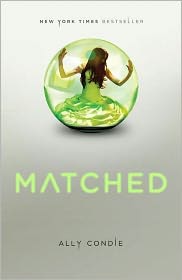 Title: Matched
Author: Ally Condie
Pages: 384
Originally Published: 2010
Format I Read: Paperback (ARC)
Publisher: Dutton Juvenile (Penguin)
Rating: [rating:4]
____________________________
I received this book for free from the publisher. All content and opinions are my own.
Matched is the "it" book of the YA fall publishing season. (If you don't believe me, just check out all of the reviews below.) It was released last week, on November 30, 2010.
Cassia lives in a perfect society. Disease and genetic disorders have been removed. Every member of society is healthy and lives to the age of 80. The society chooses your profession, your clothes, and even your match – your future spouse. Cassia is officially matched to her best friend, Xander, and thinks nothing could be better. But then another boy's face flashes up on her match microchip – Ky. She's drawn to Ky and begins to question her match – and everything the society stands for.
Okay, so this sounds pretty much like your typical teen dystopia. And it is. But then again, it isn't. I found Matched to be a fresh and interesting look at the dystopian genre. The society is fascinating and well thought out. One of my favorite bits about the society is that they decided that there was too much information. So, a committee was formed and 100 songs were chosen. So were 100 poems and 100 movies, etc. All other songs and poems and movies and books and whatnot were banned. It's kind of an interesting lesson in moderation – almost everything taken to the extreme is bad.
While the society was immediately fascinating, I was slower in warming up to the characters. Cassia was a bit of a cipher to me at the beginning. But, as the book went on, I began to care more and more about her. Her family also becomes more . . . real. More human. The book almost echoes Cassia's journey. At the beginning, the society is perfect. Everything about Cassia, her family, and her life is perfect. And then, little by little, the facade is removed. And underneath, are some surprising things. I enjoyed it, and I think most of you will too.
Check out Ally Condie's website. And check out my review of one of her other books, Freshman for President.
Matched, by Ally Condie [rating:4]
In addition to getting to read an advanced copy of this book, I was able to attend a lecture by Ally Condie in October with my book club – she's actually a local author. Here's a picture of several of the members of the book club with Ms. Condie:

(Ally Condie is third from the right.) And, we were lucky enough to have Ms. Condie come in to our discussion and answer a few questions!
Other Reviews:
Alison's Book Marks
All About {n}
Amy Reads
Angieville
At Home with Books
The Book Nest
Bookalicio.us
Books and Movies
The Compulsive Reader
Cornucopia of Reviews
The Cozy Reader
Everyday Reading
Fluttering Butterflies
Ink and Paper
It's All About Books
Just Your Typical Book Blog
Laura's Review Bookshelf
Miss Remmers' Review
One Librarian's Book Reviews
Presenting Lenore
The Reading Zone
Steph Su Reads
Stiletto Storytime
T.V. and Book Addict
Tea Mouse
The Undercover Book Lover
Wordbird
Words on Paper
YA Reads
The Zen Leaf