Mockingbird, by Kathryn Erskine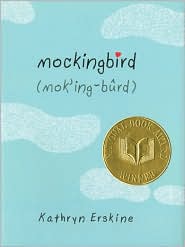 Title: Mockingbird
Author: Kathryn Erskine
Pages: 224
Originally Published: 2010
Format I Read: Hardback
Publisher: Penguin
Rating: [rating:3]
____________________________
Mockingbird won the 2010 National Book Award for Young People's Literature. So, I snabbed it over the holidays and polished it off.
Here's the publisher's synopsis:
Caitlin has Asperger's. The world according to her is black and white; anything in between is confusing. Before, when things got confusing, Caitlin went to her older brother, Devon, for help. But Devon has died, and Caitlin's dad is so distraught that he is just not helpful. Caitlin wants everything to go back to the way things were, but she doesn't know how to do that. Then she comes across the word closure— and she realizes this is what she needs. And in her search for it, Caitlin discovers that the world may not be black and white after all.
While the book was readable and short, it failed to really entertain or enlighten me. And, it was way too "issue-y" for me. There's Asperger's, a brother killed in a school shooting, and a mother dead of cancer. Sigh. However, I realize that my 28-year-old self is not the targeted audience. I think middle grade readers would both enjoy this one and learn a little something about empathy.
Mockingbird, by Kathryn Erskine [rating:3]
Other Reviews:
Back to Books
The Betty and Boo Chronicles
Book Bits
Book Nut
The Booknosher
Carrie's YA Bookshelf
From Tots to Teens
Jama Rattigan's Alphabet Soup
Kid's Lit
Laughing Stars
One Librarian's Book Reviews
Readingjunky's Reading Roost
Semicolon
Six Boxes of Books
Small World Reads