Peace Like a River, by Leif Enger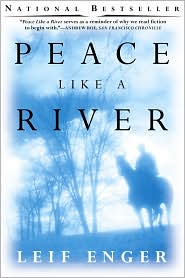 Title: Peace Like a River
Author: Leif Enger
Pages: 320
Originally Published: 2001
Format I Read: Paperback
Publisher: Atlantic Monthly Press
Rating: [rating:5]
____________________________
This. Book. Is. One of my favorite books of all time. It's so very good. And, as often happens when I try to review my favorite books, I'm at a loss for words. Thus, the publisher's blurb:
Leif Enger's best-selling debut is at once a heroic quest, a tragedy, and a love story, in which "what could be unbelievable becomes extraordinary" (Connie Ogle, The Miami Herald). Enger brings us eleven-year-old Reuben Land, an asthmatic boy in the Midwest who has reason to believe in miracles. Along with his sister and father, Reuben finds himself on a cross-country search for his outlaw older brother who has been controversially charged with murder. Their journey unfolds like a revelation, and its conclusion shows how family, love, and faith can stand up to the most terrifying of enemies, the most tragic of fates.
I first read this book several years ago with a book club, and I reread it recently with a different book club. I loved it then, and I loved it now. It's just so pitch-perfect. The writing. The characters. Sunny Sundown (an epic cowboy poem scribed by Reuben's younger sister Swede). The quest. Sigh. Books like these make me ever so happy. I had a whole list of things I wanted to cover in this post. (I took such detailed notes for this reread.) But, now that I think on it, I will just recommend that you read it. I hope you love it as much as I do.
Oh, and about three years ago, I got to spend an evening with Leif Enger. Squee!
Peace Like a River, by Leif Enger [rating:5]
Other Reviews:
1morechapter.com
Book Nut
Booking Mama
In Spring It Is the Dawn
Library Queue
The Magic Lasso
Peaceful Reader
Reading, Writing, and Retirement
Semicolon
Tif Talks Books
Word Lily