A Friend of the Family, by Lauren Grodstein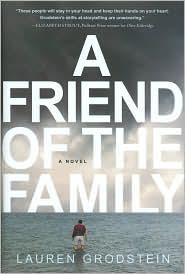 Title: A Friend of the Family
Author: Lauren Grodstein
Pages: 302
Originally Published: 2009
Format I Read: Hardback
Publisher: Algonquin Books of Chapel Hill
Rating: [rating:4]
____________________________
I love it when the blogosphere gets me to read something that I would have missed otherwise. Jessica, from one of my all-time favorite book blogs, Both Eyes Book Blog, raved about A Friend of the Family early last year, and I added it to my goodreads TBR list. And then, eventually, I read it.
Pete Dizinoff has spent his whole life working toward an adulthood that would be, by all measures, judged successful. And in nearly every way, he's accomplished just that: A skilled and intuitive internist with a loyal following of patients, he's built a thriving medical practice in Round Hill, New Jersey. He has a loving and devoted wife, a network of close friends, a comfortable suburban status, an impressive house, a good view from the porch. And most of all, he has a son, for whom he wants only the best. Pete and his wife, Elaine, have only one child, and Pete has pinned his hopes on Alec. They've afforded him every opportunity, bailed him out of close calls with the law, and, despite Alec's lack of interest, even managed to get him accepted by a good college.

But Pete never counted on the wild card: Laura, his best friend's daughter. Ten years older than Alec, irresistibly beautiful, with a history so shocking that it's never spoken of, Laura sets her sights on Alec, who falls under her spell. And with that, Pete sees his dreams for his son not just unraveling but completely destroyed. With a belief that he has only the best intentions, he sets out to derail the romance. But he could not have foreseen how, in the process, he might shatter his whole life and devastate his family.
So, this book deals with a father. He's hit middle age. He has everything. But it isn't good enough. He wants his son to have everything. And he's willing to risk his everything to try to ensure that his son is successful, under the father's standards – not the son's. At first I was tempted to read this as one of those annoying the-suburbs-suck-and-everyone-in-them-is-trapped kind of books. But really, I think it is properly read as a cautionary tale. That is, if you take what you have for granted, or try to force your version of happiness on others, you just may lose your own everything.
I had a lukewarm reaction to A Friend of the Family, as I finished it. But it has grown on me in the days and months since then. It is thought-provoking and well-written. And those are the best kind of books.
A Friend of the Family, by Lauren Grodstein [rating:4]
Other Reviews:
Beth Fish Reads
Bookgirl's Nightstand
Bookin' with Bingo
BookNAround
Both Eyes Book Blog
Devourer of Books
Everyday I Write the Book
Everything Distils into Reading
Largehearted Boy