Bright Blue Miracle, by Becca Wilhite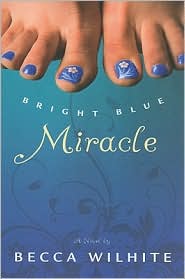 Title: Bright Blue Miracle
Author: Becca Wilhite
Pages: 173
Originally Published: 2009
Format I Read: Paperback
Publisher: Shadow Mountain
Rating: [rating:3]
____________________________
In case you didn't hear, May is Utah Author Month! Becca Wilhite, author of Bright Blue Miracle and other books, is a Utah author. I read this little book a few months ago at the urging of some of my book club members. As an added life bonus, I got to meet Ms. Wilhite briefly last October, and she and I hail from the same alma mater. You can check out her website here. But, I'm wandering. Back to Bright Blue Miracle. Here's the blurb:
Seventeen-year-old Leigh Mason is not sure she's ready to share her mom, her bedroom, and her little sisters with her new stepsister, Betsy. And she's definitely not ready to share her best friend, who happens to be a boy! Coping with a blended family is not easy for either Leigh or Betsy, especially during their senior year in high school. Each step brings them nearer to a crisis that will either send them running in different directions or bind them firmly together (which, let's face it, would take a miracle).
This nice little novella takes a mostly realistic look at a teenager dealing with a blended family. It deals with actual issues, without being issue-y. And it's clean, without being preachy or square. I was impressed with Wilhite's writing and, in particular, with Leigh's inner teenage voice. Here are a couple of tidbits:
There we sat, passing green beans and salad around the dinner table, when out of Mom's lovely mouth came these words: "Hey, Emily and Sarah, how would you like to have a bigger family?"
Struggling not to choke, I managed, "Objection, Your Honor. Leading the witnesses."
Mom grinned, overruled my objection, and gave the twins her full attention (translation: ignored me – of course).
"Hey. How was your date?" I mustered no enthusiasm until the last word. I'll admit it, it sounds more like an accusation than an attempt at conversation. But she smiled graciously and told me how great Jeremy's house was (as if I were unaware) and what a fantastic cook he was (thank you for that news item) and that he made the best raspberry-peach smoothie anywhere (my recipe).
I think the writing really captures that teenage inner and outer sarcasm. The writing is good, and the story is simple and genuine. But, I did find the plot to be a little "ho hum." Overall, I enjoyed Bright Blue Miracle. But I think teenagers would enjoy this one the most.
Bright Blue Miracle, by Becca Wilhite [rating:3]
Other Reviews:
Bloggin' 'bout Books
It's All About Books
SherMeree's Musings