The Hip Girls Guide to Homemaking, by Kate Payne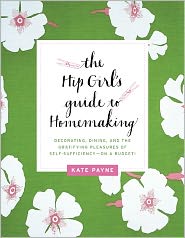 Title: The Hip Girls Guide to Homemaking: Decorating, Dining, and Gratifying Pleasures of Self-Sufficiency – on a Budget!
Author: Kate Payne
Pages: 266
Originally Published: 2011
Format I Read: Paperback
Publisher: Harper Design
Rating: [rating:4]
____________________________
I've been on a bit of a "homemaking" kick lately. I've been trying to organize my household, plan meals and shopping trips better, and decorate my home more to my taste. So, I thought this book would be a fun read. And I was right. This is one of my favorite passages:
I'm not an interior designer, nor a home decor specialist. I just like pretty things. I like to surround myself with things that make me happy. That's it! As our old pal William Morris said, "Have nothing in your house that you do not know to be useful or believe to be beautiful." If something's beautiful to you, find a way to make it work.
Doesn't that William Morris quote make you want to embroider a pillow? And something about Payne's book and style makes me believe that I can conquer my homemaking goals. And you can too. Here's how the book is divided:
Part I – Room-by-Room Guide to a Homey House, Homie
Chapter 1 – Kitchen and Dining Rooms
Chapter 2 – Living Areas
Chapter 3 – Bed, Bath, and Between
Lots of good decorating and repurposing tips here. This part make me want to take a trip to a thrift store.
Part II – Impressive Acts of Domesticity
Chapter 4 – Outdoor Spaces
Chapter 5 – Cleaning and DIY Suds
Chapter 6 – Managing Cloth
Chapter 7 – Tapping the Tool Kit
Good stuff abounds here, too – from growing what you can in the space available to you, to thinking through the chemicals you clean with, and from laundry options and strategies, to conquering simple household repairs and projects.
Part III – Life After Restaurants
Chapter 8 – Cooking at Home
Chapter 9 – Preserving Food at Home
Chapter 10 – Entertaining Projects
This part felt the most home-y to me. There's something about food that creates that atmosphere. These chapters are full of good ideas on how to cook and entertain at home, as well as to preserve and maximize your food resources.
So, I thought this book was well-written and informative, though the "hip girl" talk turned out to be a minor annoyance. And Payne has a lot of good tips. Of course, not every tip will be for every person, but there are plenty here to choose from. I was particularly inspired by the idea of preserving even small quantities of food at home, by the idea of mixing your own cleaners from basic ingredients link vinegar and borax, and by repurposing beautiful items into your decor. But I'm sure each reader will be inspired by different things.
Beware before purchasing that there is a definite " extreme green" tilt to the writing (Payne has no microwave, uses glass Tuperware, and makes all of her own cleaners). Also, most of the suggestions are geared to large-city, apartment dwelling, though many of them are adaptable to other living situations. Still, as a suburban house dweller, I was a little disappointed at the narrower scope of the book.
Overall, this is a good book that would make an excellent wedding shower gift or a nice present for yourself if you need some ideas to spicy up your domestic life.
The Hip Girl's Guide to Homemaking, by Kate Payne [rating:4]
Check out Payne's website: HipGirlsHome.com.
Other Reviews:
She Is Too Fond of Books