The Soldier's Wife, by Margaret Leroy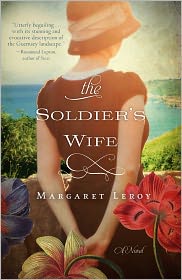 Title: The Soldier's Wife
Author: Margaret Leroy
Pages: 416
Originally Published: 2011
Format I Read: Paperback
Publisher: Hyperion
Rating: [rating:4]
____________________________
I received this book for free from the publisher. All content and opinions are my own.
So, all I knew about The Soldier's Wife when I got it was that it took place during World War II on Guernsey. You know, the little island in the English Channel made famous by a certain potato peel society? And, really, that's all you should know going into it too.
My general reaction to this book was positive. The writing is simple. As is the plot. But it gives a nice sense of place and time. Really, the only negative I have to report, and this is something I've noticed in several books lately, was the cavalier attitude towards adultery. But that may be just me.
In all, this is a charming book. And if you liked that infamous other book about Guernsey, you'll probably like this one.
The Soldier's Wife, by Margaret Leroy [rating:4]
Other Reviews:
A Musing Reviews
Book Sake
Bookfoolery and Babble
Books and Movies
Boston Book Bums
Chocolate & Croissants
Rhapsody in Books Weblog
That's What She Read
Two Kids and Tired Books