A Wrinkle in Time; When You Reach Me; First Light
I recently was lucky enough to meet Rebecca Stead! I was so excited about this event that I engaged in extensive preparation beforehand. First, I read A Wrinkle in Time, as it's mentioned throughout Stead's Newbery-winning When You Reach Me. Then I reread When You Reach Me. And then I read Stead's first book, First Light. This review covers all three books.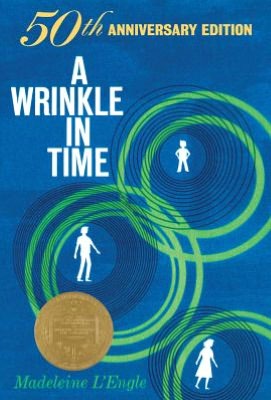 A Wrinkle in Time, by Madeleine L'Engle [rating:4]
A classic beginning: "It was a dark and stormy night." From there we meet Meg, her brother Charles Wallace, and their friend Calvin as they embark on an adventure full of time-travel, fantasy, and good old fashioned disappointment in parents. Oh, and this one won a Newbery Medal too.
Verdict: it lived up to the hype. It was well-paced, well-written, and well-peopled. While Meg is a bit of a whiner, she is a character tweens and teens would identify with, and I liked her as an adult because she progressed and matured as a result of the adventure. Charles Wallace was a great character too, but Calvin was a bit of a head scratcher. He seemed rather non-essential to me, and I was uncomfortable with the romance aspect of his presence. I also found this to be very biblical – the good fighting against "IT" who seeks to take away the power to choose.
My favorite part was the illustration of the inevitable disillusionment with the omniscience of our parents as we grow up. Meg wants her father to take charge, so she doesn't have to. I think we all do this with our parents, and, as we get older, with others in our lives. I liked A Wrinkle in Time, but I wish that I had read it as a child, since it likely holds more magic for children.
P.S. This year marks the 50th anniversary of the publication of A Wrinkle in Time.
When You Reach Me, by Rebecca Stead [rating:4]
My old synopsis:
Miranda's life sort of takes a turn for . . . the odd in sixth grade. She and her best friend Sal have inexplicably parted ways. Her mom has been accepted as a contestant on The $20,000 Pyramid. A homeless man has taken up residence by her mailbox. And, she starts receiving notes that accurately predict the future.
Verdict: it lived up to the pressures of a reread. I read it a couple of years ago, shortly after it won the Newbery Medal. And while I remembered the basic plot outline, I was eager to reread it and see how the puzzle fits together in hindsight. I was not disappointed. It was even better with the foreknowledge of the ending. I was excited as each clue came forward. And I liked Miranda, and the references to A Wrinkle in Time. But my favorite was the way that Stead captured being in sixth grade and being abandoned, seemingly for no reason, by your best friend. I think this one is going to be timeless.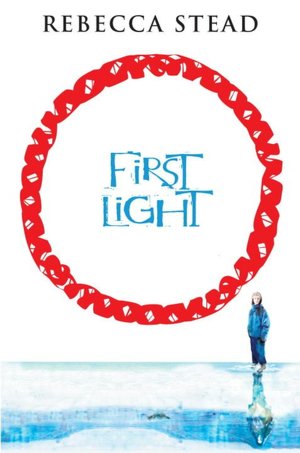 First Light, by Rebecca Stead [rating:4]
So, I think I liked this one the best. Here's the description from the publisher:
Peter is thrilled to join his parents on an expedition to Greenland, where his father studies global warming. Peter will get to skip school, drive a dogsled, and–finally–share in his dad's adventures. But on the ice cap, Peter struggles to understand a series of visions that both frighten and entice him.

Thea has never seen the sun. Her extraordinary people, suspected of witchcraft and nearly driven to extinction, have retreated to a secret world they've built deep inside the arctic ice. As Thea dreams of a path to Earth's surface, Peter's search for answers brings him ever closer to her hidden home.
Verdict: it lived up to (and surpassed by a titch) When You Reach Me. Stead does a great job of introducing lots of characters and their family relationships. I loved Thea and wished that I knew Peter a little better. I loved the dogs as characters, of course, and the idea that every child was given a dog to be their companion for life. Stead brought two worlds together in interesting and believable ways. There are hints of politics in the form of global warming references, but not enough to incite either side. Oh. And one of the best beginnings I've read in a long time: "Most boys his age had never touched paper. There was little left." I'd highly recommend this one.
It did remind me a bit of The City of Ember and The White Darkness. So, if you liked those, you'd likely like this one.
Have you read or reviewed this book too? Feel free to jump in with your thoughts or leave a link to your review in the comments.