Bloggiesta Mini-Challenge: Five Ways to Spiff Up Your Book Reviews
Welcome Bloggiesta-ers! I hope you are having a productive Bloggiesta. I know I have a lot to do. Thanks to Suey and Danielle for hosting this lovely event. And now to the mini-challenge.
As book bloggers, we tend to post a lot of reviews. And, I don't know about you, but I'm always looking for ways to make my reviews stand out. So here are five simple ways to spiff up your reviews.
1. Add STARS.
If you give out star ratings in your reviews, it's nice to have a visual representation. Here's how to get stars into your reviews:
Blogspot/Wordpress – Unfortunately, there is not a perfect solution for non-self-hosted blogs. The simplest way to insert review stars is to use html codes for stars and star outlines in the html screen when you're writing your post. Here are the codes:
★ = ★
☆ = ☆
So, if you're using a five-star scale and are awarding four stars, you'd use the following code:
★★★★☆ = ★★★★☆
The disadvantage to this method is the limited typography and the lack of half-stars. Another method is to find an image you like, upload it to your gallery, and insert the appropriate number of the images into your post as needed. Some bloggers get really creative with the images they use, like Care's slices of pie.
WordPress Self-Hosted – The best method is to use a plugin like the Star Rating for Reviews Plugin. Once the plugin is installed and activated, you can set certain parameters (like how many stars are in your scale and whether you use half-stars or not). Then, in your actual post, all you have to do is add in [rating:4] (or however many stars you are awarding to the book). It then appears like this: [rating:4].
2. Include IMAGES.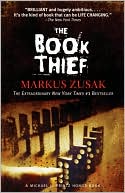 Use of cover images in book reviews falls under the fair use provisions of copyright laws, which means you can use them in your reviews without attribution. I find my images through the publisher, if possible. Once you find the cover you want, right click on it, save it to your computer, then upload to your gallery and to your post.
It's also a safe bet that, in the blogosphere, if someone is hosting an event, meme, or challenge, you can use their button freely, without attribution. However, if someone contacts you and asks you to remove their image from your site, it's usually best to do so.
Image by shutterhacks
For images other than cover images, copyright laws apply. So you can't go about the internet grabbing images and sticking them in your posts without permission. One good way to find images is through Flickr. Flickr's Creative Commons search allows you to find and use images for free (for certain uses), as long as you give the creator credit. The owners usually specify how the attribution should read in their profiles. Of course, if there is an image you're just dying to use, you can always ask for permission to use it. The worst the owner can say is no, right?
For extra bonus points, check out this tutorial on adding captions to pictures, like the one above.
3. Foster COMMUNITY.
There are a number of ways to foster community, but one of the easiest ways is to include links to other reviews of the same book. Luckily, Fyrefly has done most of the work for you. She has created the Book Blog Search Engine. Over 1,800 book blogs are included in the search engine. So, all you have to do is type in the name of the book you're reviewing and – voila! – other reviews on the same book pop up. You can then simply link to your search results, or you can pull them off and link to them individually on your blog, like I used to do. (One of my Bloggiesta resolutions is to start doing this again.)
4. Give CREDIT.
When you're reviewing a book for a blog tour or because the author or publisher sent you the book, make sure you give them credit. Include logos and links where you can. Plus, it's good form to let your readers know you got the book for free.
5. Go BIG.
Or go home. Include those little extras that help your reader find out more about the book. Include links to author websites, publisher pages, even Amazon or Barnes and Noble or your favorite indie bookstore. If the book is about a particular place, include an image (with proper permission and attribution, of course). Mention if the author is coming on tour to a bookstore near you. Suggest similar books. Link to or create discussion questions. The possibilities on this one are endless. But it's these nice extra touches that will really set your reviews apart.
GIVEAWAY
I'm giving away a copy of The Slippery Art of Book Reviewing to one lucky entrant. It'll ship from The Book Depository, so the giveaway is open to residents of all countries to which they ship. Or, if you win, have a Kindle or Nook, and prefer the ebook, I will happily accommodate.
To enter, simply add one of the above items to one of your reviews. Then come back here and post a link to the review in the comments, pointing out the new element. I'll announce a winner next week.
Oh, and feel free to email me or comment here with any questions you may have. I'll do my best to help!