Mini Reviews
Sadly, I fell WAY behind on my 2011 reviews. So, I've been posting mini reviews to help catch up. This is the last round! Check out round one, round two, and round three, if you like. Though all of these books deserve their own posts, this will have to do.
The Wednesday Wars, by Gary D. Schmidt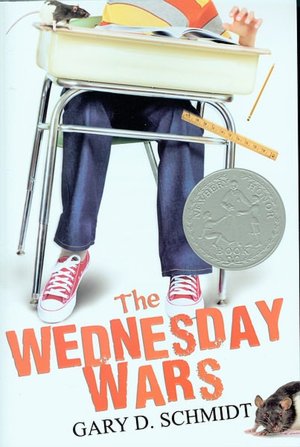 Rating: [rating:4]
On Wednesday afternoons, when the rest of his Jewish and Catholic classmates attend religious classes, Holling Hoodhood, the lone Presbyterian seventh-grader, is left with Mrs. Baker, and the experience is challenging for them both. This book made me want to read Shakespeare! The writing is superb, and it felt very realistic. It takes place in 1967, and I felt like I was there. I think this strikes that magic balance: it will appeal to both kids and adults alike. Gary D. Schmidt's entire back list is now on my TBR list.
A Christmas Carol, by Charles Dickens
Rating: [rating:5]
This is a classic. And it deserves to be. It's everything you could want in a story. And it made me realize why that song says "There'll be scary ghost stories and tales of the glories of Christmases long, long ago." Dickens and I have not always gotten along in the past, but this book has made me want to try more of his stuff.
Three Cups of Deceit, by Jon Krakauer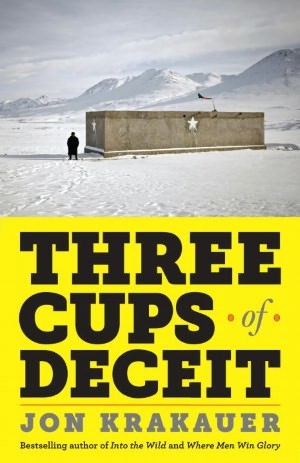 Rating: [rating:3]
I was predisposed to like this book, since I hated Three Cups of Tea. But I just didn't feel like it came together. Maybe there was too much emotion and not enough research and sources to back up the statements. I did feel that the parts about the management of the organization were will constructed and researched. In any case, it's an interesting counterargument to Three Cups of Tea and shows that Greg Mortensen is not exactly what he says he is.
Before I Go To Sleep, by S.J. Watson
Rating: [rating:4]
This book gets full marks for pacing. It's remarkable, especially since it's S.J. Watson's first novel. I could not wait to find out exactly what happened. You know the premise, right? Christine has amnesia. Every morning she wakes up and cannot remember anything. So, she starts to keep a journal, so she can remember. And she begins to discover some unsettling things. Alas, at least one point must be deducted for its failure to hold up over time. This isn't a book that, for me, held up upon reflection a few days later, and I highly doubt it would stand up to the rigors of a reread.
The Girl Who Chased the Moon, by Sarah Addison Allen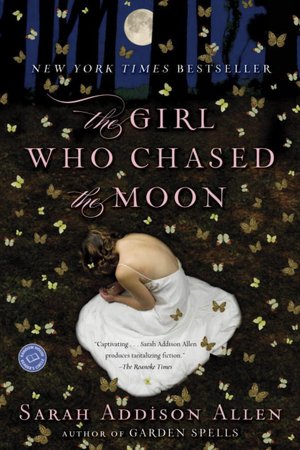 Rating: [rating:4]
My first experience with Sarah Addison Allen. I'd heard about her brand of magical realism and wasn't sure what to exact. But it was rather delightful. I enjoyed all of the characters. But, I was rooting most for the secondary romance plot. I wish that had been the main focus. And this book is very light and fun, but I didn't find a lot of substance. Still, I think I'll keep Allen in mind when I need a palate cleanser.
The Truth About Forever, by Sarah Dessen
Rating: [rating:4]
I really liked this book – my first Sarah Dessen. For YA, I felt it had a lot of depth and good characters. And it stuck with me afterwards, which is saying something. Macy gets a summer job away from her Type-A mother as an assistant in a catering company. There she meets people so different from her usual crowd that she's forced to examine who she really is. Standard fare as far as YA plots go, but I loved the characters and the writing. I'll be reading more Dessen.
The Nanny Diaries, by Emma McLaughlin & Nicola Kraus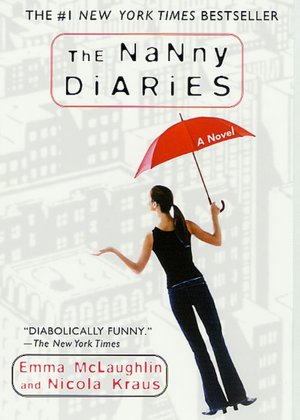 Rating: [rating:3]
So, I'm not a fan. I know many people who are. But I just found the people to be awful, and I couldn't find much to be amused about. Nanny takes a position with the X family, caring for Grayer. The X family is rather appalling, and there is little Nanny can or should do. It is based on the writers' experiences being nannies in New York, so it did have some interesting insight into New York and the life of a nanny. But I thought the writing was just okay. And I felt it unsuccessfully walked a line between plot points based on real experiences and entirely fabricated plot points. It just felt uneven and a little sad.
This Is What I Did, by Ann Dee Ellis
Rating: [rating:3]
Interestingly told story about a kid haunted by a traumatic event. Logan's best friend, Zyler, has a rough home life, and that ends up spreading into Logan's life. The prose is sparse but insightful. At the end of the day, I didn't end up forging a strong connection with Logan, but I did feel bad for him that he had to experience the things he did. I admired the unusual structure and writing style and look forward to reading more from Ann Dee Ellis. Ellis will be teaching at the upcoming Writing and Illustrating for Young Readers Conference, which will be held June 18-22, 2012. You should check it out if you're an aspiring writer; the lineup looks awesome.
Have you read any of these books? Which was your favorite?