The Return of the King, Book 5 #LotRreadalong
Thanks to Jenni and Kami for hosting this readalong!
My Reading Process. I listened to all of Book 5. I really seem to be flip flopping on the reading versus listening. I like both. The only downside to listening is that I don't highlight as many quotes.
My Thoughts on Book 4. Some of my favorite scenes are in this section! King Théoden and the Rohirrim riding to Gondor's aid. Éowyn killing the chief Nazgûl. And Aragorn coming in to his own? Love it so much.
Here are some of my favorite quotes from Book 5:
At that sound the bent shape of the king sprang suddenly erect. Tall and proud he seemed again; and rising in his stirrups he cried in a loud voice, more clear than any there had ever heard a mortal man achieve before: Arise, arise, Riders of Théoden! Fell deeds awake: fire and slaughter! spear shall be shaken, shield be splintered, a sword-day, a red day, ere the sun rises! Ride now, ride now! Ride to Gondor! With that he seized a great horn from Guthláf his banner-bearer, and he blew such a blast upon it that it burst asunder. And straightway all the horns in the host were lifted up in music, and the blowing of the horns of Rohan in that hour was like a storm upon the plain and a thunder in the mountains. Ride now, ride now! Ride to Gondor! Suddenly the king cried to Snowmane and the horse sprang away. Behind him his banner blew in the wind, white horse upon a field of green, but he outpaced it. After him thundered the knights of his house, but he was ever before them.
But Pippin rose to his feet, as if a great weight had been lifted from him; and he stood listening to the horns, and it seemed to him that they would break his heart with joy. And never in after years could he hear a horn blown in the distance without tears starting in his eyes.
'Begone, foul dwimmerlaik, lord of carrion! Leave the dead in peace!' A cold voice answered: 'Come not between the Nazgûl and his prey! Or he will not slay thee in thy turn. He will bear thee away to the houses of lamentation, beyond all darkness, where thy flesh shall be devoured, and thy shrivelled mind be left naked to the Lidless Eye.' A sword rang as it was drawn. 'Do what you will; but I will hinder it, if I may.' 'Hinder me? Thou fool. No living man may hinder me!' Then Merry heard of all sounds in that hour the strangest. It seemed that Dernhelm laughed, and the clear voice was like the ring of steel. 'But no living man am I! You look upon a woman. Éowyn I am, Éomund's daughter. You stand between me and my lord and kin. Begone, if you be not deathless! For living or dark undead, I will smite you, if you touch him.'
Out of the wreck rose the Black Rider, tall and threatening, towering above her. With a cry of hatred that stung the very ears like venom he let fall his mace. Her shield was shivered in many pieces, and her arm was broken; she stumbled to her knees. He bent over her like a cloud, and his eyes glittered; he raised his mace to kill. But suddenly he too stumbled forward with a cry of bitter pain, and his stroke went wide, driving into the ground. Merry's sword had stabbed him from behind, shearing through the black mantle, and passing up beneath the hauberk had pierced the sinew behind his mighty knee. 'Éowyn! Éowyn!' cried Merry. Then tottering, struggling up, with her last strength she drove her sword between crown and mantle, as the great shoulders bowed before her. The sword broke sparkling into many shards. The crown rolled away with a clang. Éowyn fell forward upon her fallen foe. But lo! the mantle and hauberk were empty. Shapeless they lay now on the ground, torn and tumbled; and a cry went up into the shuddering air, and faded to a shrill wailing, passing with the wind, a voice bodiless and thin that died, and was swallowed up, and was never heard again in that age of this world.
'Farewell, Master Holbytla!' he said. 'My body is broken. I go to my fathers. And even in their mighty company I shall not now be ashamed. I felled the black serpent. A grim morn, and a glad day, and a golden sunset!'
Oh Théoden.
And then wonder took him, and a great joy; and he cast his sword up in the sunlight and sang as he caught it. And all eyes followed his gaze, and behold! upon the foremost ship a great standard broke, and the wind displayed it as she turned towards the Harlond. There flowered a White Tree, and that was for Gondor; but Seven Stars were about it, and a high crown above it, the signs of Elendil that no lord had borne for years beyond count. And the stars flamed in the sunlight, for they were wrought of gems by Arwen daughter of Elrond; and the crown was bright in the morning, for it was wrought of mithril and gold. Thus came Aragorn son of Arathorn, Elessar, Isildur's heir, out of the Paths of the Dead, borne upon a wind from the Sea to the kingdom of Gondor; and the mirth of the Rohirrim was a torrent of laughter and a flashing of swords, and the joy and wonder of the City was a music of trumpets and a ringing of bells.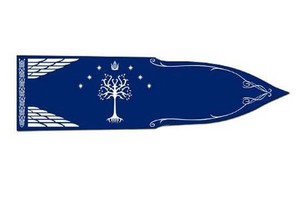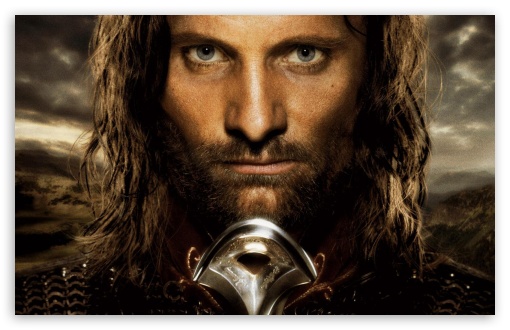 For it is said in old lore: The hands of the king are the hands of a healer. And so the rightful king could ever be known.'
I'm bummed the movie left most of the healing stuff out.
'That would be no new counsel,' said Gandalf. 'Have you not done this and little more in all the days of Denethor? But no! I said this would be prudent. I do not counsel prudence. I said victory could not be achieved by arms. I still hope for victory, but not by arms. For into the midst of all these policies comes the Ring of Power, the foundation of Barad-dûr, and the hope of Sauron.
ANSWERS TO DISCUSSION QUESTION
There are a lot of symbols in The Lord of the Rings, and there are a lot of lessons to learn. For example: fighting evil, fighting for what is right, friendship, willpower, one's duty, sacrifice, etc. I would like everyone to pick a topic from The Lord of the Rings and write a little something about it.
This is a great discussion question. I love both Kami's and Jenni's answers. Something that has struck me often as I have read this book (and something that comes up in both Kami's and Jenni's answers) is the power of choice. This theme is recounted and recounted again and again. Everyone in the book makes a choice – to fight for good or evil. Here are a few examples that come quickly to mind:
Frodo's choice to volunteer to act as ring-bearer
Faramir's choice to let Frodo and Sam go and to help them
The Ents' choice to do something about Saruman
Merry's choice to help Éowyn
Boromir's choice to try and get the ring from Frodo
Denethor's choice to commit suicide and attempt to take Faramir with him
The other thing I found interesting, particularly in this book, was the idea that by choosing one thing, you often cannot choose another. This was especially striking in Gandalf's comments about choosing to not go out to the battlefield where the chief Nazgûl was terrorizing everyone and choosing instead to go and save Faramir. Then, afterwards, he suggests that, had he been out on the battlefield, he possibly could have saved Théoden and Éowyn:
They looked at him, and for a while he was silent. At last he spoke. 'My friends,' he said, 'and all you people of this city and of the Western lands! Things of great sorrow and renown have come to pass. Shall we weep or be glad? Beyond hope the Captain of our foes has been destroyed, and you have heard the echo of his last despair. But he has not gone without woe and bitter loss. And that I might have averted but for the madness of Denethor. So long has the reach of our Enemy become! Alas! but now I perceive how his will was able to enter into the very heart of the City.
So much in this book is out of the control of the individual characters. Often, the only thing they can control is their own choices. This is often the same in the real world. We can control the choices we make.